Over this weekend, I celebrated my twenty-third birthday. Repeatedly. And it was splendid. There were many inspiring conversations, tasty eats, and whopping love hugs. I got to spend the day with two of my best buds: Saar – one of my favourite Europeans and fellow nutritionists – and Erik, the beloved boyfriend. We spent some time in the sunshine and had lunch at Raw Aura in Port Credit. Raw Aura's menu is gluten-free, vegan, and completely raw with nothing being heated above 43C, although there are a few menu items that are served hot. I've always admired raw vegans for their inventiveness in the kitchen, especially in the dessert department!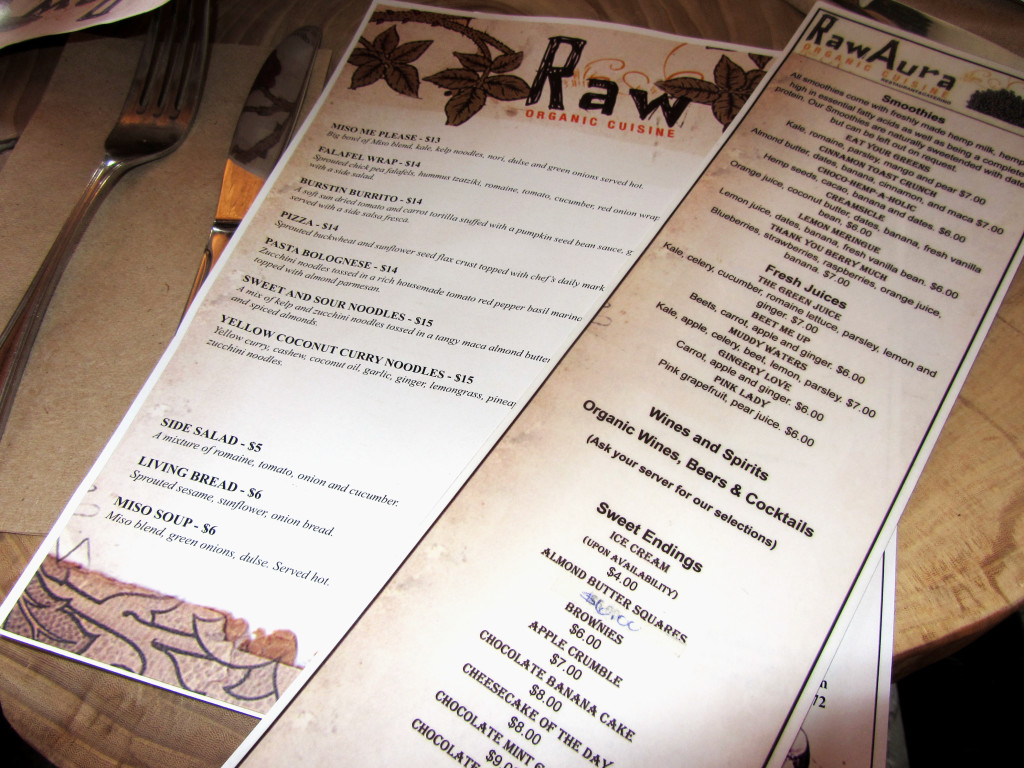 What Makes Raw Food So Great?
The majority of people can definitely use more raw veggies and fruit in their diet. Here's why:
Greater nutrient density: Many vitamins such as vitamin C, thiamine, pantothenic acid, and folate are heat-sensitive and are damaged by cooking. Including more raw food in your diet means eating food with a greater nutrient density.
Enzymes: Raw fruits and vegetables are rich in enzymes that aid in digestion by helping to break down nutrients. Like the vitamins mentioned above, enzymes are also easily damaged by heat and as a result, are easily destroyed in the cooking process.
You can fill up without feeling bloated: Feel free to fill up on as much non-starchy raw vegetables as you want. You'll be doing your body a solid! The majority of my salads take place in a mixing bowl bigger than my head, and I never feel bloated, icky, or guilty afterwards.
Increased regularity: Another reason why you'll be feeling less bloated? By filling up on fruit and veg, you'll be getting an awful lot of fibre in your diet. This is a good thing! We should be aiming for at least 30 grams per day of insoluble fibre which will help keep your digestive system chugging along nicely. Which means a lot less poop hanging out in your intestines and contributing to that distended tummy look. Is it okay for me to say 'poop' here? Duh, I'm a nutritionist. I can comfortably talk about poop whenever the heck I want.
Less packaging: Replacing the packaged foods in your diet with more produce will dramatically decrease your contribution to the world's landfills, which we can all do a little more of!
I've been to this restaurant a handful of times in the past, but I always end up getting the same thing: the Cinnamon Toast Crunch smoothie (which actually tastes just like the cereal of it's namesake), and the Burstin' Burrito.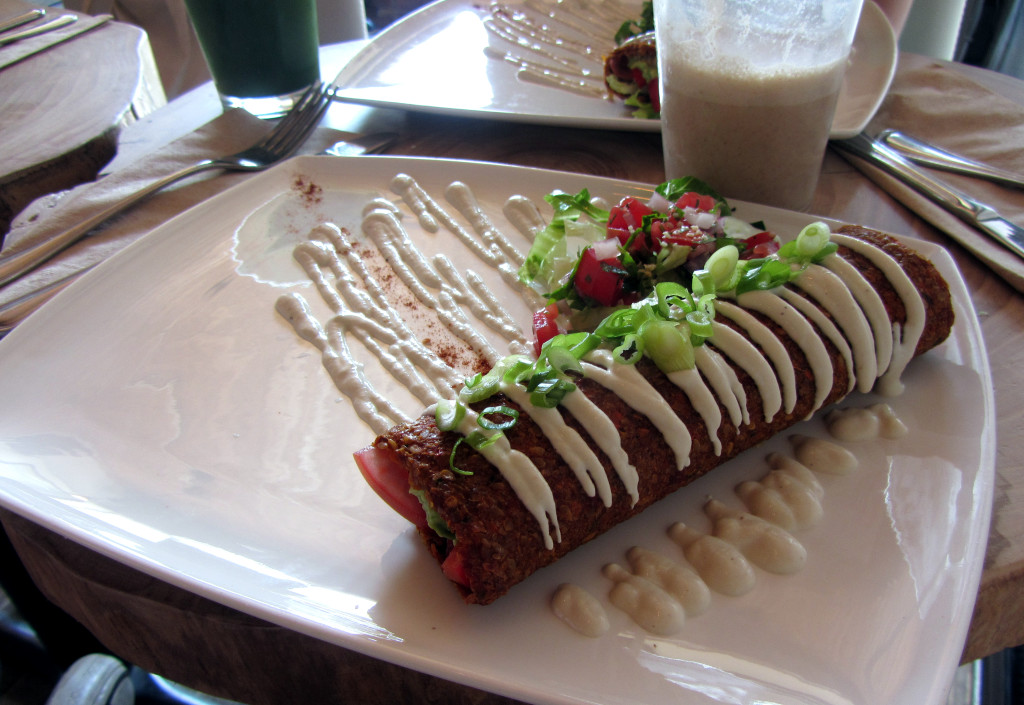 The smoothie was a blend of almond butter, dates, banana, cinnamon, and maca. While I normally love this smoothie, it is very decadent and was probably not an optimal choice after a few days of indulgence! I think that I usually get it without the dates, and I forgot to make that request on this particular occasion…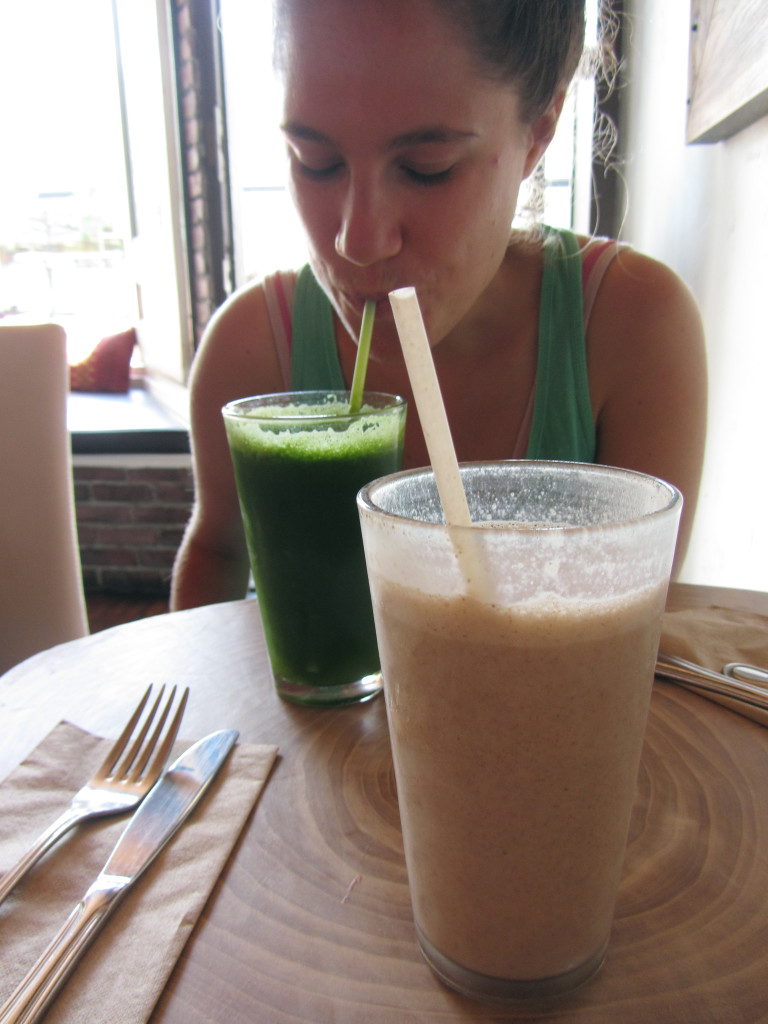 Saar also ordered the burrito which was it's usual scrumptious self. Check out the drool-worthy description they had on their menu: "A soft sun-dried tomato and carrot tortilla stuffed with lettuce, tomato, red onion, guacamole, and refried pumpkin seed beans, garnished with cashew sour cream and side salsa."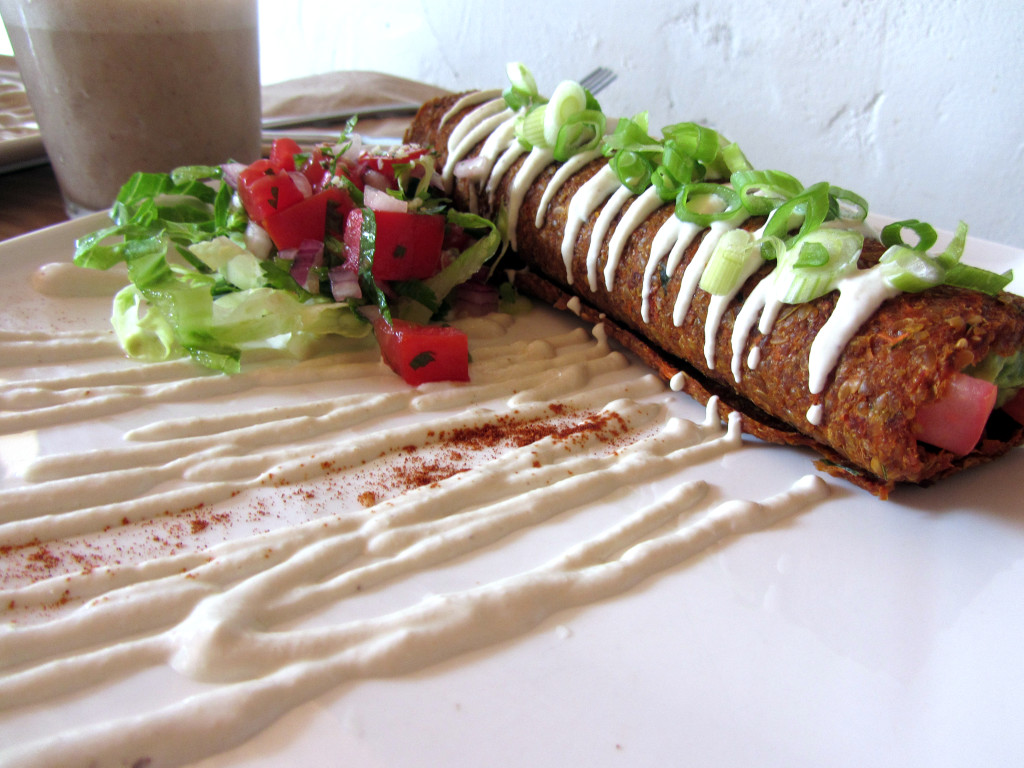 Erik had the felafel wrap which contained some sprouted chickpea felafels in a collard green wrap with tzatziki and other vegetable goodies.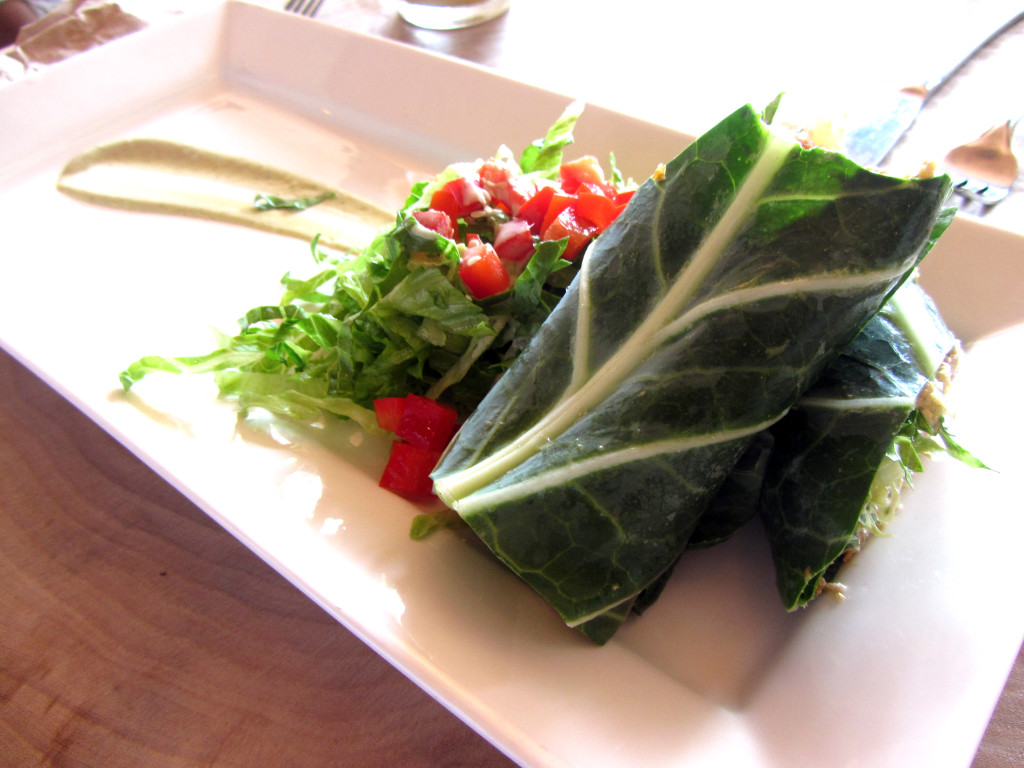 I finished lunch off with a bright and energizing green juice (kale, celery, cucumber, romaine lettuce, parsley, lemon and ginger – could have used some cilantro!) before Saar handed me an incredibly sweet birthday letter that she had written me. My eyes were burning and I was trying not to cry at the table. We headed outside where she handed me a large and mysterious cardboard box.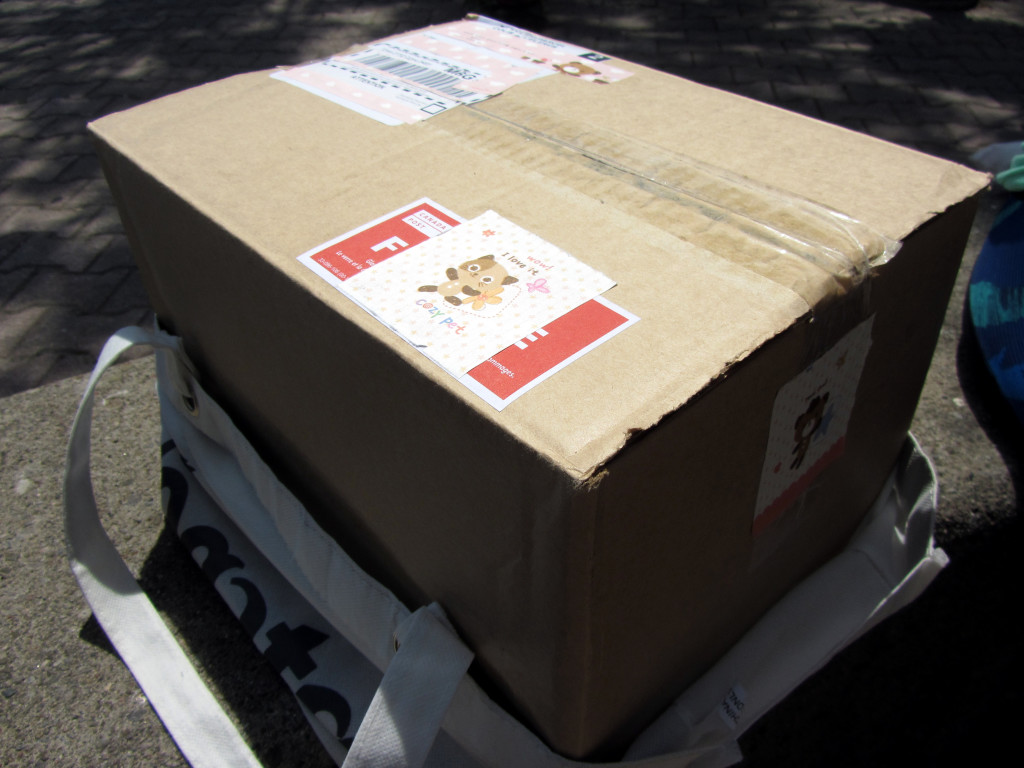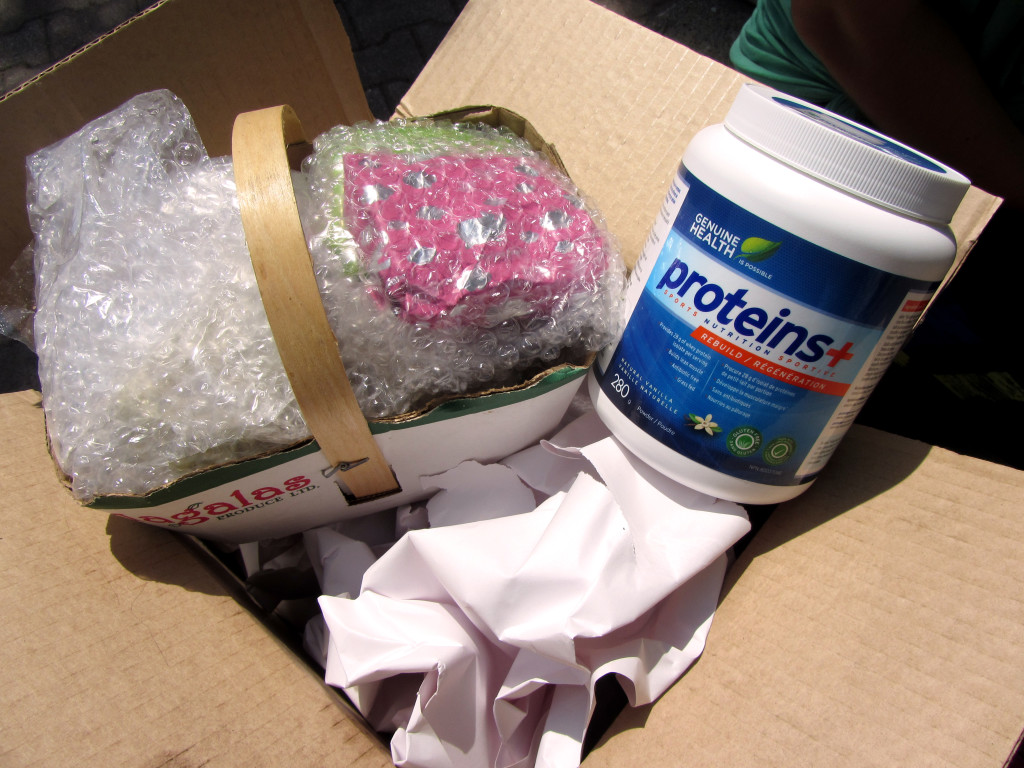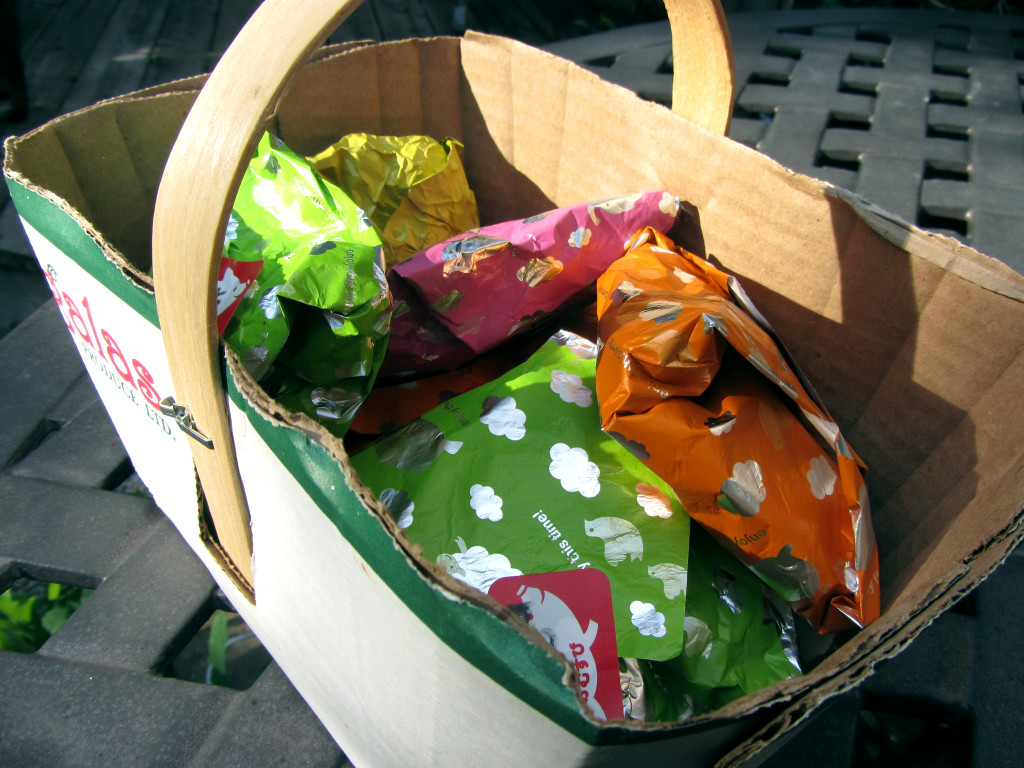 Inside was a container of Genuine Health Proteins+ vanilla whey protein powder which I can't wait to try! I always buy chocolate protein powders, so it will be fun to get some variety into my green smoothies. She had also baked me three different kinds of vegan pepernoten, this spicy Dutch cookie which they normally have at Christmas. Don't worry Saar, I promise I've been sharing a little bit!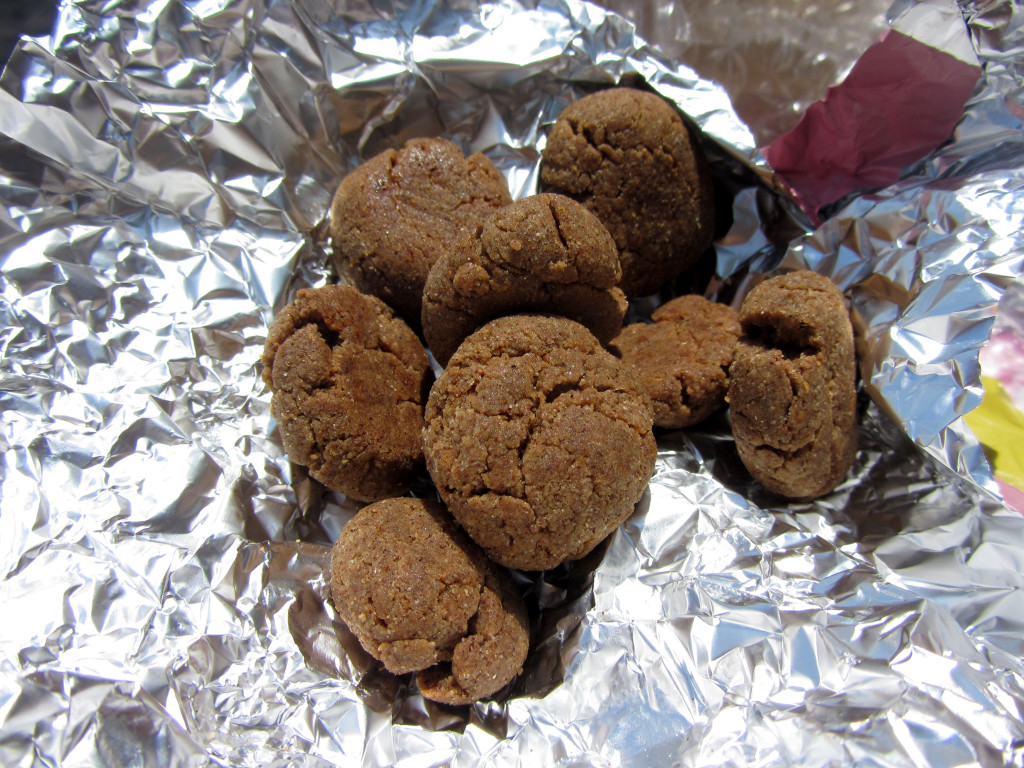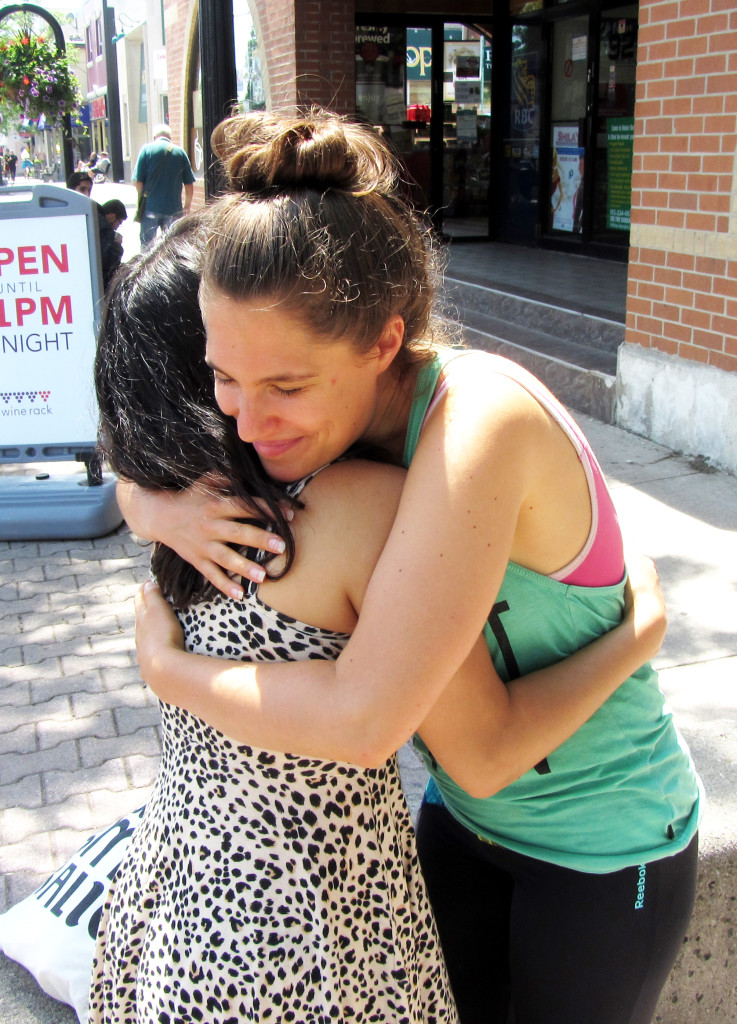 When I got home from lunch, I spent the rest of the evening relaxing and hanging out with my family. My mom and younger sister, Abbey, made a beautiful dinner of curried salmon steaks, a giant salad, and roasted asparagus.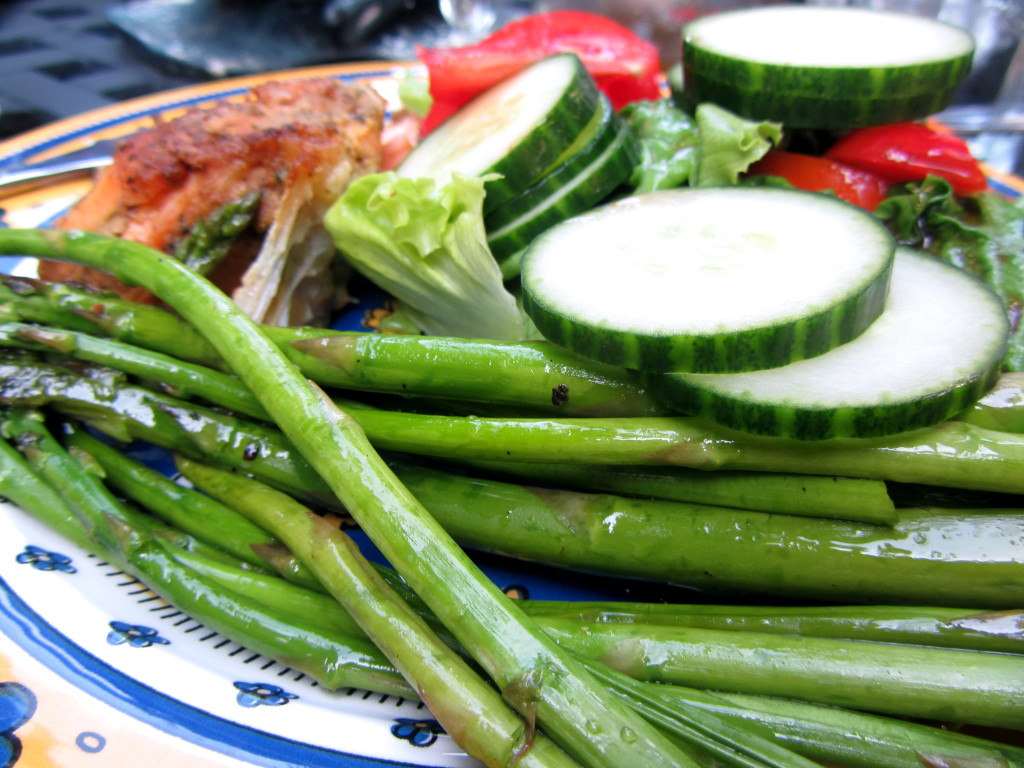 After dinner my youngest sister, Allaina, presented me with this naughty chocolate caramel apple! I cut it up into slices and shared it with everyone for dessert. I will never tire of the fresh fruit and chocolate combination. If you're going to indulge, make sure you do it in style!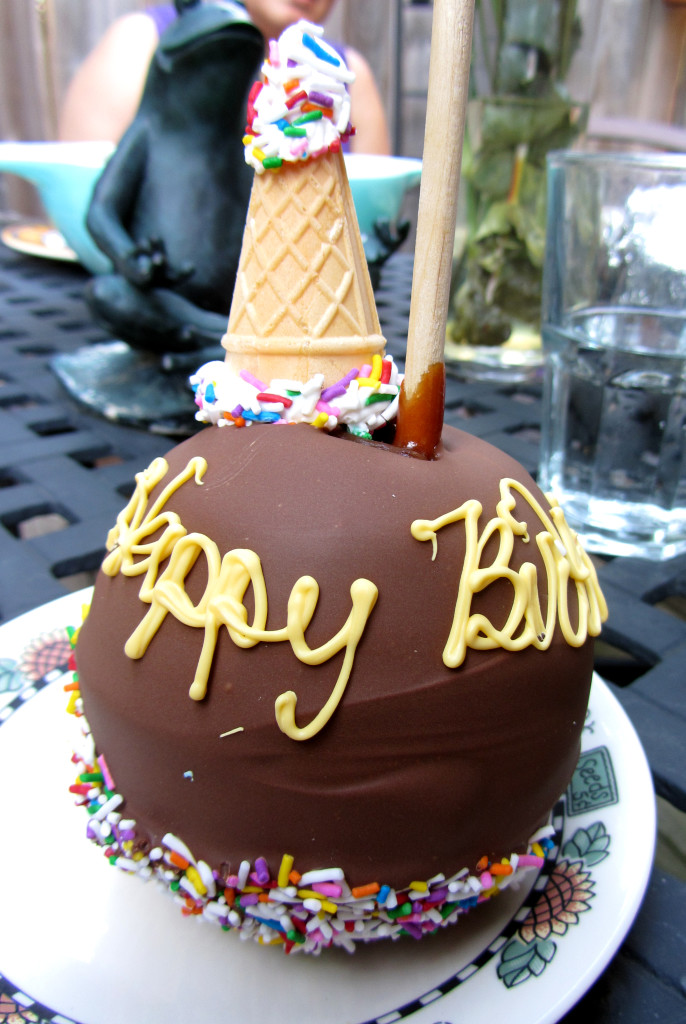 Anyway, that's all for now. If you're Canadian, like me, I hope you had a lovely long weekend. Happy Canada Day! Anne xxoo