I've been M.I.A. for a little bit. Oops, sorry about that.
I started a new job about a month ago, and the extra responsibility has hit me like a ton of bricks. Work starts at an utterly ungodly hour which, on the bright side, has helped to regulate my sleep cycle, but when I get home, I am definitely not in the mood to do anything remotely productive. Mostly I spend my afternoons and evenings curled up with a book or hitting a yoga class, often while drinking way too many matcha lattes. But now that I've returned, I have something exciting I want to share with you lovely folks.
Introducing My CSA
Today is Wednesday, one of my favourite days of the week because it means that a CSA box arrives on my front porch somewhere between the hours of noon and 9pm. What is a CSA, you ask?
CSA stands for "Community Supported Agriculture".
At the beginning of the growing season, you pay the farm a set fee and in return, you receive a share of the farm's produce every week in the form of a CSA box. However, you also share the risks the farm faces, whether that is weather or pests – things out of the farmer's control.
If you have never experienced the joys of the CSA, now is a great time of year to start. Each growing season brings its own unique produce. Over the winter, our CSA boxes tended to contain plenty of root vegetables and greenhouse lettuces and sprouts. I am currently drooling over the prospect of the warm-weather produce to come: juicy sun sugar tomatoes, plump berries, and an assortment of unrecognizable melons that prove to be scrumptious.
Advantages of Joining a CSA
Each box is a welcome surprise, and one that forces me to get creative in the kitchen. I often receive produce I would never have thought to purchase at the grocery store – garlic scapes, anyone? Tomatillos? Watermelon radishes?
There are costs to shopping at the grocery store.
Not only is shopping organic at the grocery store super expensive, but you are also losing out on the awesome nutritional potential of fresh and local produce.
Correct me if I'm wrong, but I've always found that the signs over the produce bins at my local grocery store always read "Product of U.S.A." or "Product of Israel" or some other far off place, meaning that your food has been transported a pretty long way to get to where you are. This can take a while, and in order to ensure this produce is not spoiled by the time it reaches the grocery store, it is often picked from the plant before it is anywhere close to ripe let alone brimming with nutritious goodness. The longer your produce remains growing and the closer it is to ripe when it's picked, the more time it has had to suck all those awesome vitamins and minerals from the soil and the better it will be for your sweet bod.
Eating local is better for the environment and for your community.
Since locally grown produce does not have to travel very far to reach you, less energy is used up on transport. You might also notice that local food requires less packaging, which means that there is less to throw in the garbage afterwards. By supporting your local farms, you ensure that the future generations of your community have access to an abundance of nutritious food.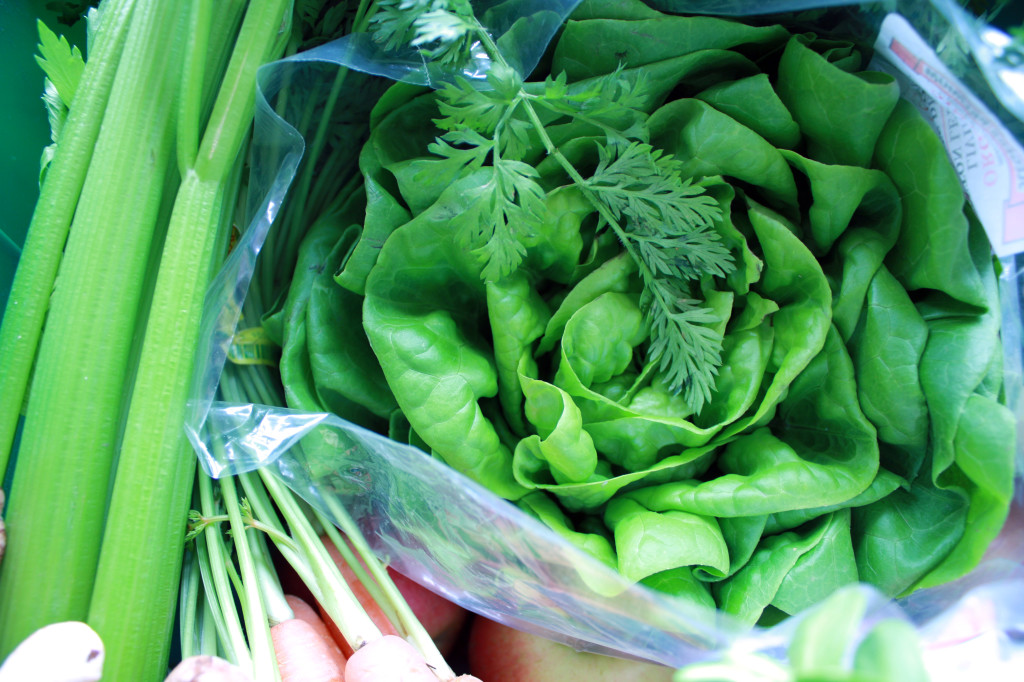 Click here to find an Ontario CSA close to you (This link will be helpful to Ontario residents, but if you live outside of Ontario, I'm sure a quick Google search of local CSAs will be equally beneficial).
If you want to learn more about the benefits of eating local my favourite books on these subjects are In Defense of Food: An Eater's Manifesto by Michael Pollan, and Animal, Vegetable, Miracle by Barbara Kingsolver. I have also started putting together a library of my favourite nutrition and food resources for you! I'll keep updating it as I come up with more. But for now, that's my piece. I'll see you next time!