In the hustle and bustle of prepping for my trip to Bald Head Island, I had the bittersweet experience of saying a temporary goodbye to Saar, who has just departed on another stretch of world travelling. She has had a pretty huge impact on my life in the two years that I've known her, and even though she just left, I already can't wait for our next reunion. Who knows where it will be… Bali, Thailand… I'm sure it will be one of her favourite places somewhere in this beautiful world, and she can give me the grand tour!
Ever since Saar included it in her '5 Musts for August' post I've been dying to try out FEAST (Fabulous Eats for the Allergic and Sensitive Types). This being our last get-together for the next little while, it seemed only appropriate that we pop in. We took a lovely stroll down Crawford, through Trinity Bellwoods Park, to West Queen West, where you'll find Feast.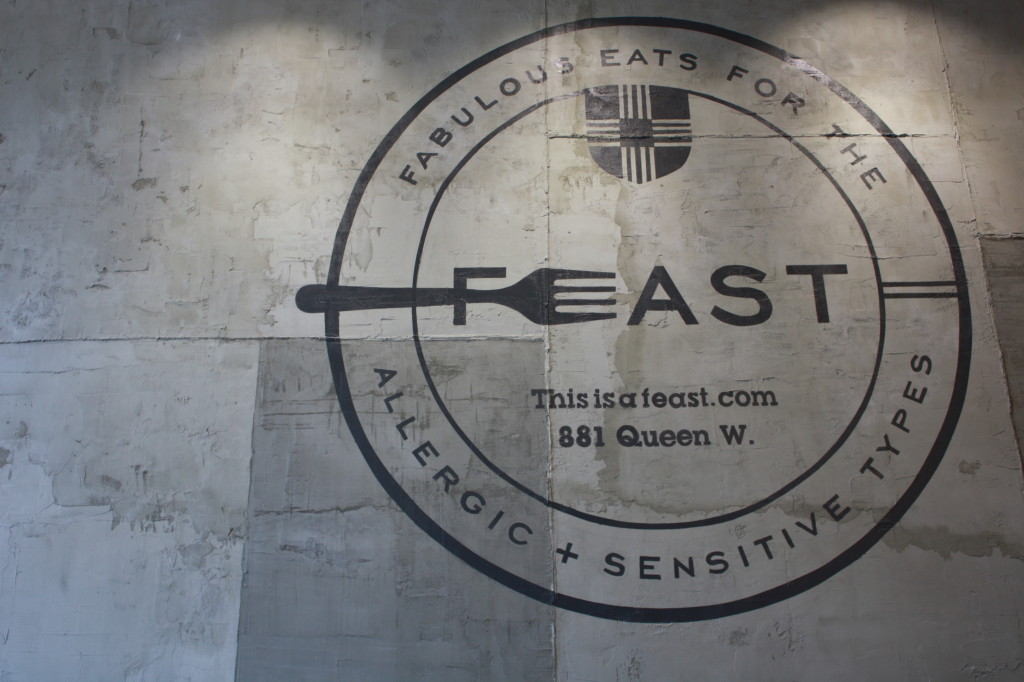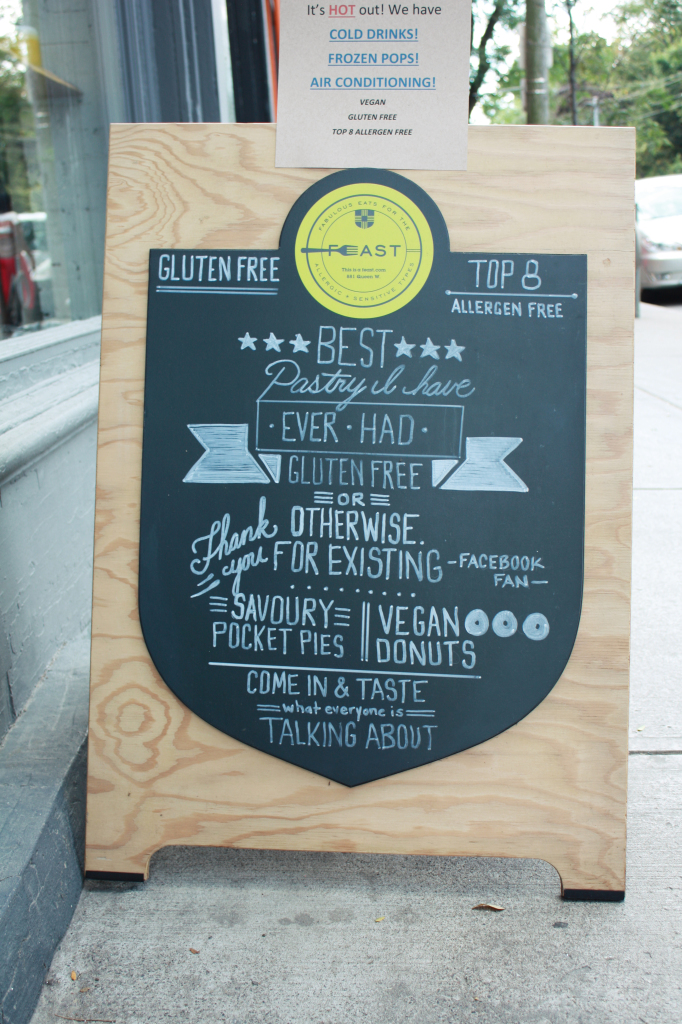 When you first walk in, you'll notice that Feast is more like a specialty grocery store than a sit down eatery. Along one wall are shelves stocked with chocolates, oils, and other tasty-looking goodies, all blessedly free of common allergens. There are a few bar stools and a counter looking out the front window. The space is light and airy. We were quickly offered samples of the store's housemade coconut butter – which tastes pretty close to real butter, actually – and nut butters (chocolate sunflower butter! What, what?).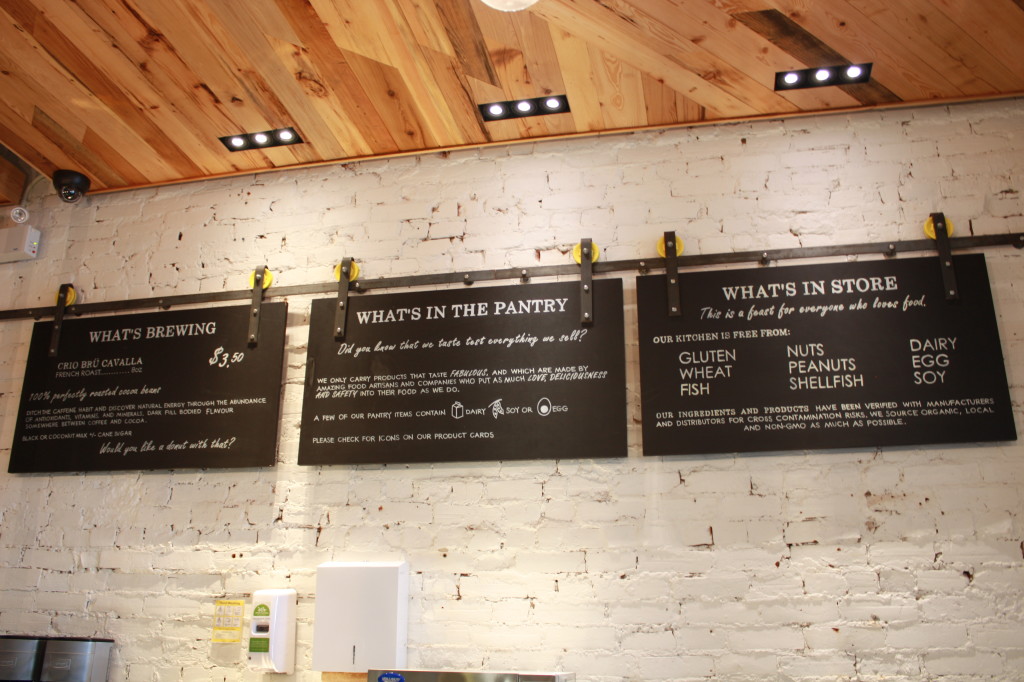 In the glass case by the front counter were an assortment of pocket pies: Jerk Chicken, The Beefeater, and Vegan Curried Black Bean. I went with the black bean pocket pie this time. The pastry was perfect (tender, chewy, and totally convincing for those who are still a bit leery of gluten-free flours) but the filling left a little bit to be desired… a bit more spice or a dipping sauce would have been a lovely addition here.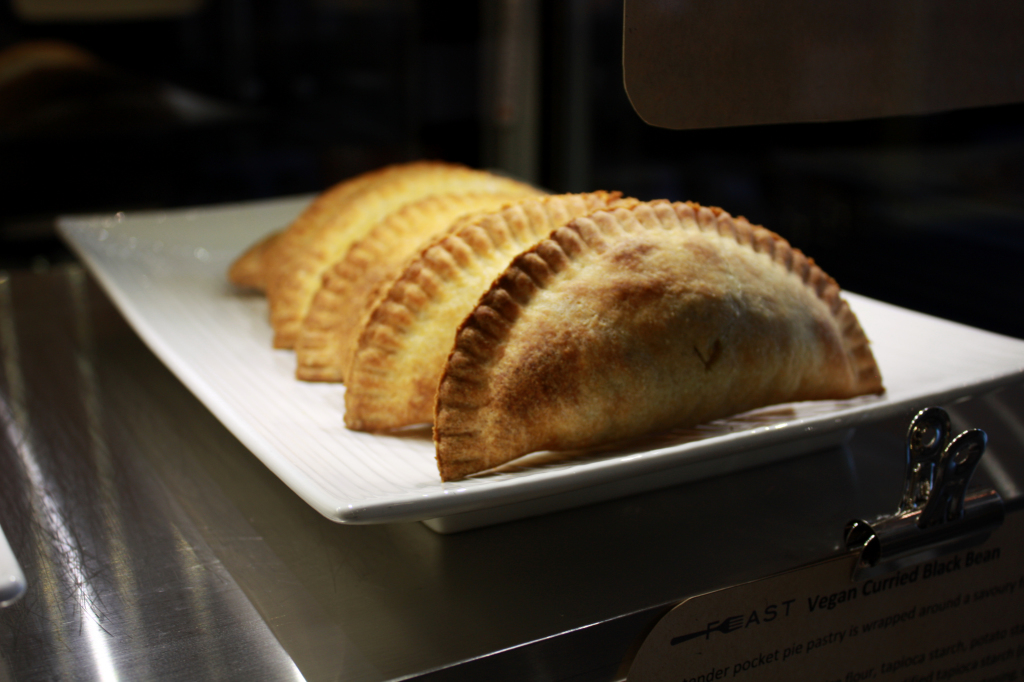 In a cooler next to the counter are some interesting beverages, including Toronto-based Vams' kefir water and kombucha.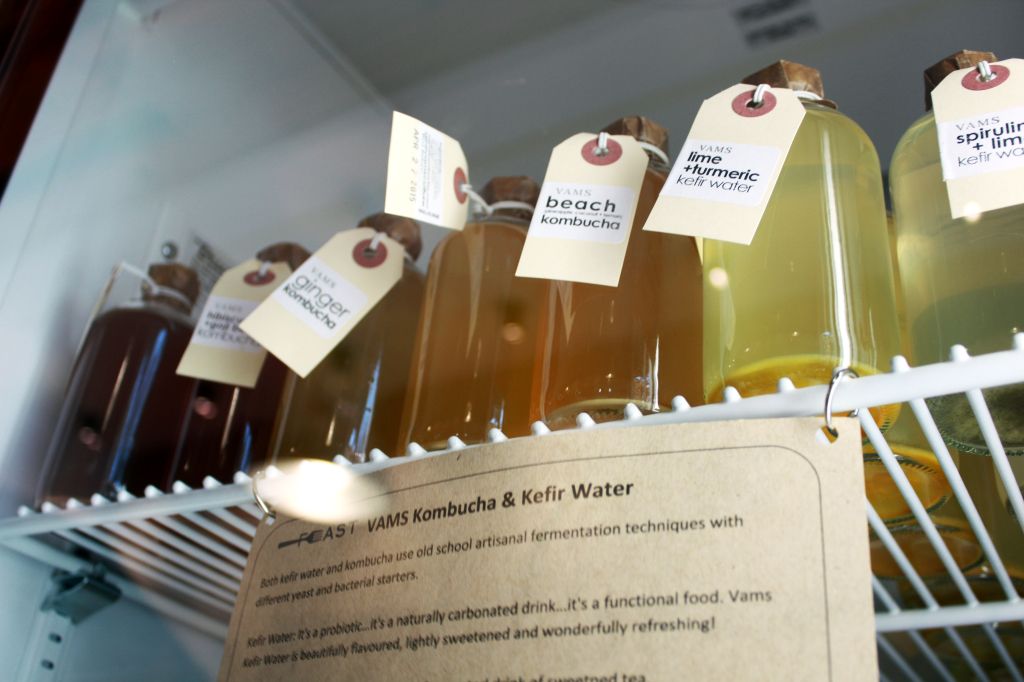 We sat down in the bar stools by the window, and smiled at everyone who walked by. It was great.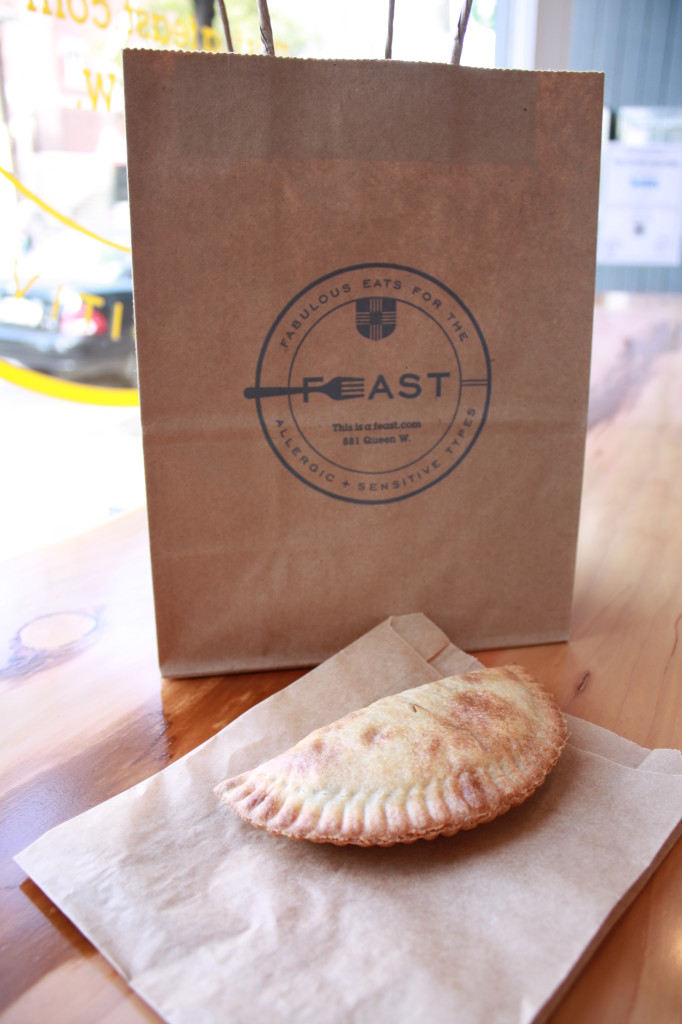 For dessert, I picked up a pair of coconut caramels, which were sooooo yummy. Up in front is their Tropical Caramel (coconut and pineapple, sprinkled with sea salt), and in the back is one of Feast's Chocolate Krispies (cacao nibs and puffed rice cereal).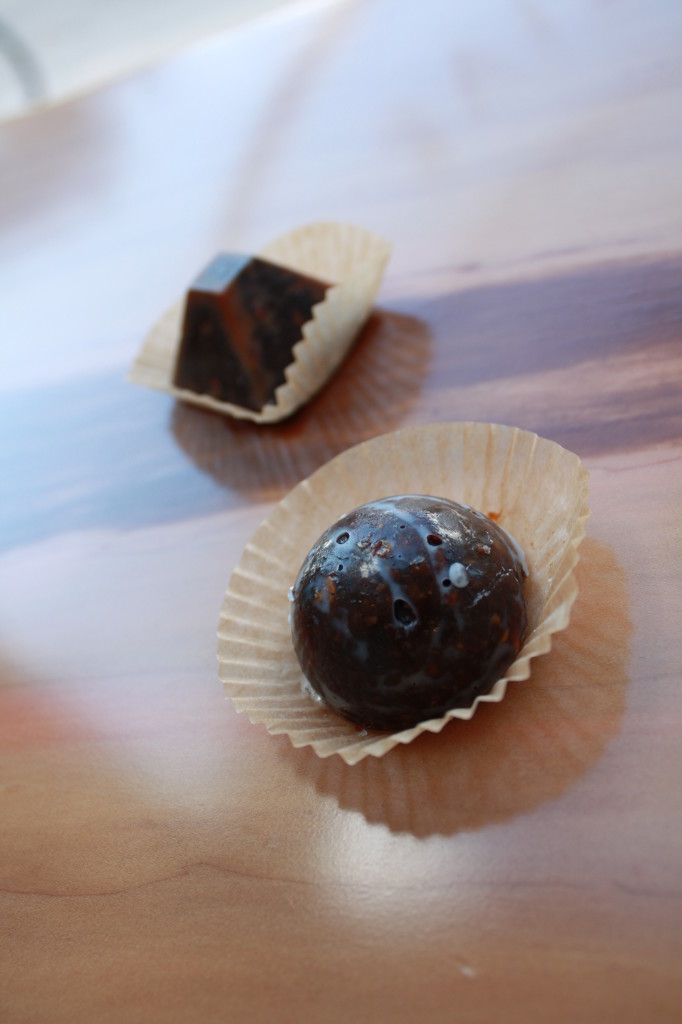 After lunch, we explored some of the surrounding stores. Next door to Feast is "Type", a beautifully curated bookshop. It was perfect for vegging out in with a satisfied tummy. Saar and I grabbed seats in the children's section at the back and read picture books to one another.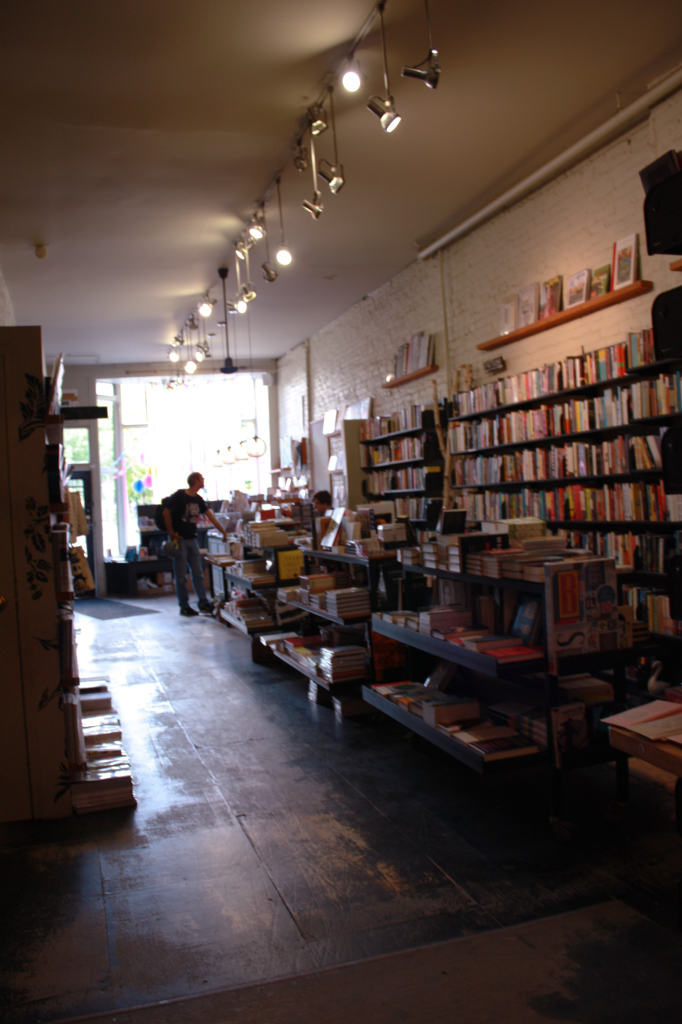 Before long, we headed back out into the sunshine to check out some more of the neighbourhood (a very pretty and trendy neighbourhood at the moment) and to grab some green juice.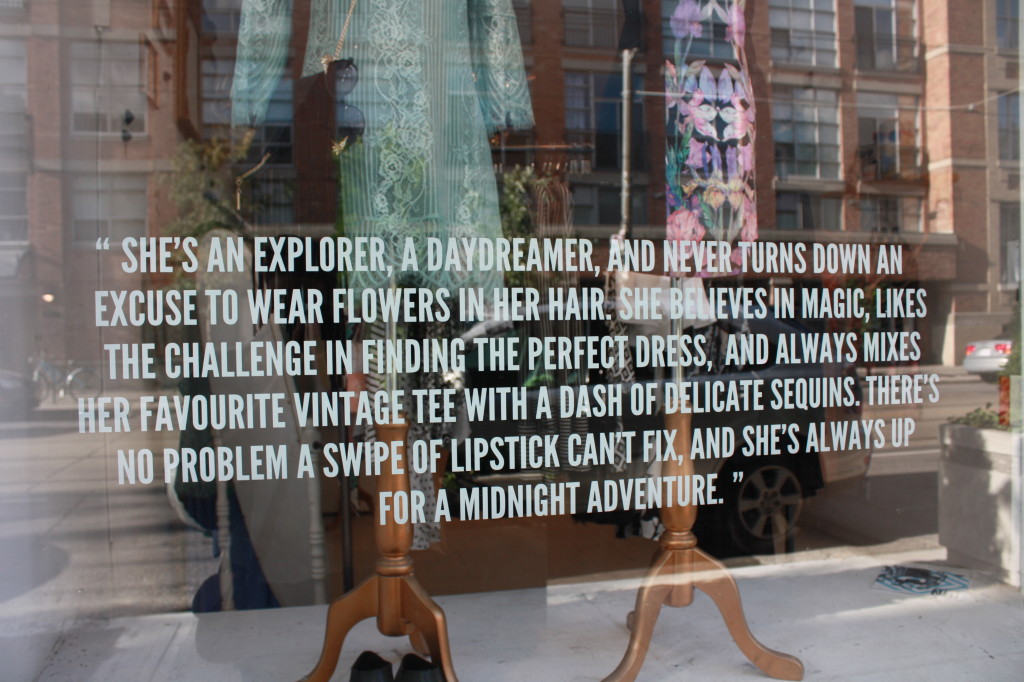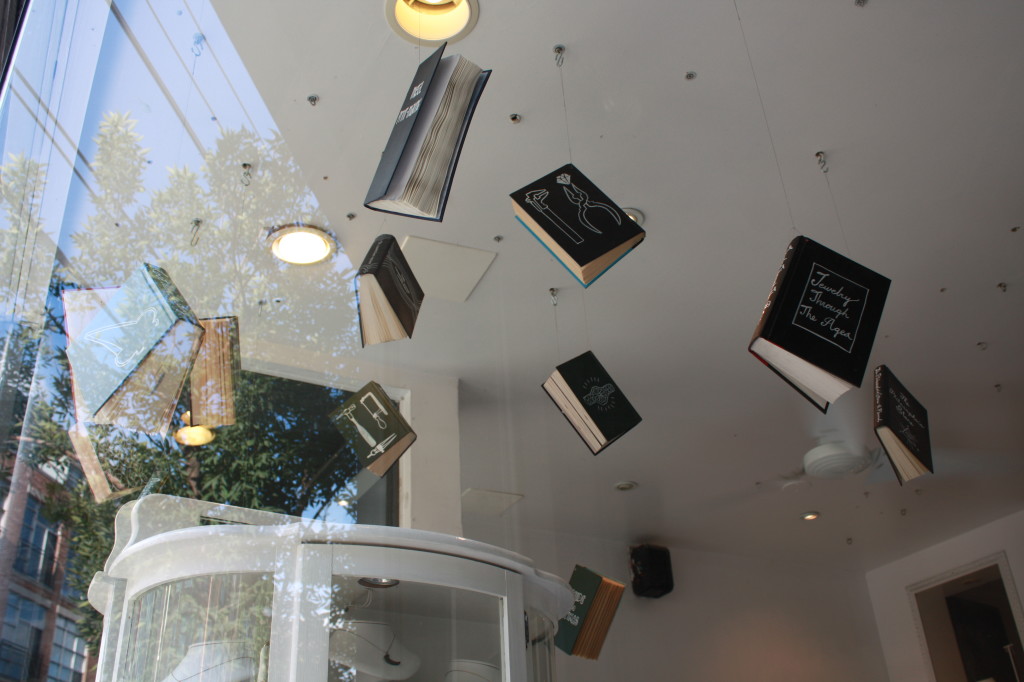 While at Feast, I had also grabbed one of their Triple Chocolate Love donuts. We plopped down under an oak tree in Trinity Bell Woods park so I could dig in. Also very yummy, but really more cake-like, if I remember correctly, than any donut I've ever had.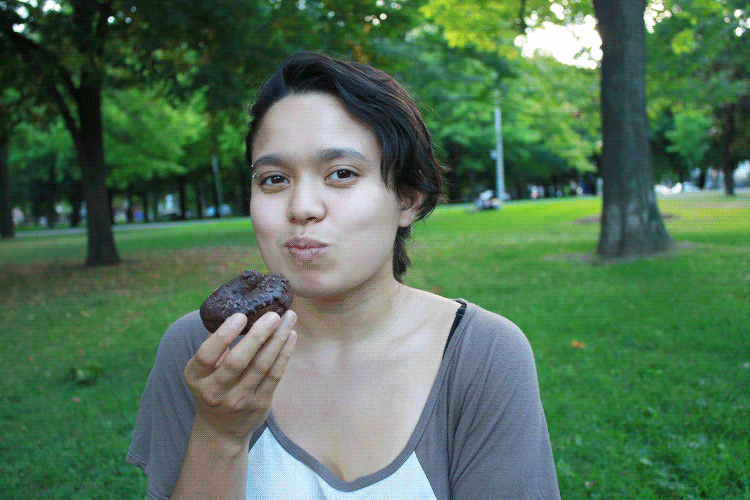 Love you, buddy. <3 (Saar. Not the donut. Okay, also the donut.)