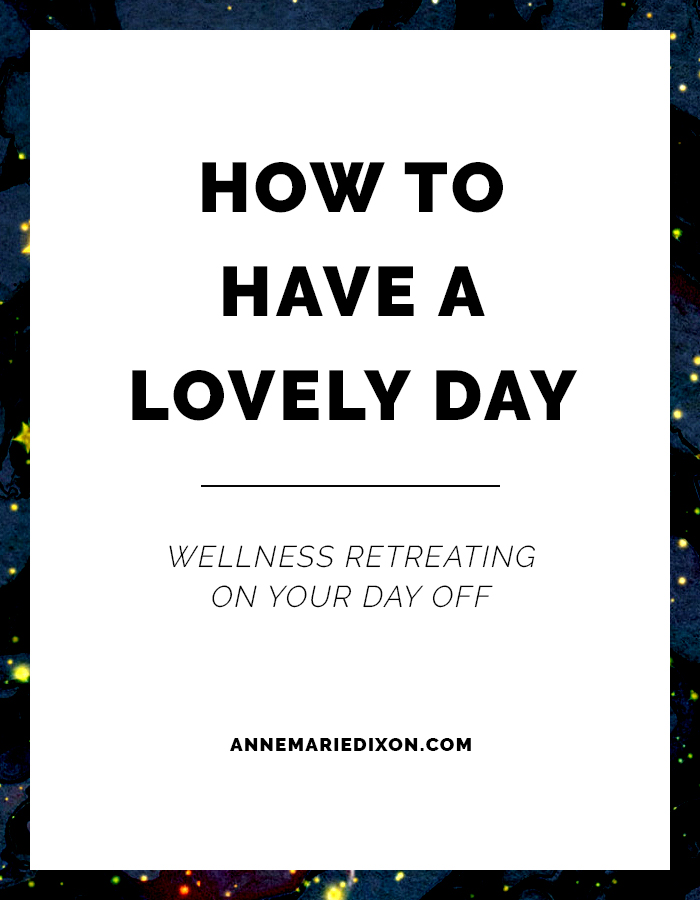 The idea for a How to Have a Lovely Day post comes from Sara Du Jour's post by the same name. When I read it, I was immediately inspired to write a how-to from my own perspective.
So, without further ado: I had a day off and decided to Have a Lovely Day. Your idea of a Lovely Day may look different from mine, but if you also happen to have the day off of work, feel free to follow along.
Start the day off with a cup of cayenne lemonade.
Squeeze half a lemon into a cup of warm water. Add a couple shakes of cayenne (make it as spicy as you can realistically handle). You're ready, Freddy. Sip away. Drink it all up before you have anything else to eat or drink. This stuff is like a magic elixir for flushing out your digestive tract (By this, I mean that it will make you poop. Have fun.), supporting liver detoxification, and giving your metabolism a spicy kick in the pants. Unf.
Enter: Bed Yoga.
Take your cayenne lemonade back to bed with you so you can work on stretching out that beautiful bod in the comfort of your bed. If you aren't sure what to do to wake up your body, throw on a YouTube video (Yoga With Adrienne is one of my favourites) or grab an issue of Yoga Journal. YJ always has a section of awesome little sequences you can do whether you have ten, twenty, or thirty minutes to spare.
Is your cayenne lemonade gone? Good, because…
It's time for a healthy breakfast.
On this particular day, I opted for a quinoa berry bowl. I made a big pot of quinoa on Sunday which makes it really easy to put together breakfast bowls or to bulk up a salad. You know what they say, "When you fail to plan, you plan to fail."
Get lost on the internet.
Like many other people I have surveyed — in a super official way, of course — my getting lost on the internet is a daily occurrence. I try to use this time to watch videos and read articles and blog posts that will inspire my focus for the rest of the day.
Spend time on your passions.
Do things that make you happy. Engaging in creative pursuits and having an outlet for your thoughts and ideas is life changing. I use this time to work on my Thousand-Words-A-Day Project, attend a life drawing class, or make something fun in the kitchen. Sometimes, I'm also passionate about binge watching Orange is the New Black or controlling various lives in The Sims (because I'm coo' like that…), and that's okay too. It's your day off. Enjoy yourself.
Snack mindfully.
Make sure whatever you're snacking on includes a healthy protein or fat source. You don't want to be eating foods that are going to leave you with hypoglycemic and ravenous half an hour later. If you're going to have a piece of fruit, slather it in nut butter or have it with a side of trail mix. I had leftover turkey burgers in the fridge, so when I found myself feeling a bit peckish, I had one of those with a giant scoop of hemp seed guacamole. Later on, I smeared organic peanut butter on apple slices and sprinkled them with cinnamon and dulse. (Dulse, if I haven't mentioned it before, is a kind of seaweed. Sea veggies are a total superfood. They're a great source of trace minerals, particularly iodine. I may do a sea vegetable-specific blog post in the near future. And show you my seaweed collection!)
But also, clean something.
I know what you're thinking: Eff no, I am not cleaning on my day off. And if that's your outlook, that's totally fine. For me, cleaning something is cleansing, whether it's purging my closet or sweeping the kitchen floor. It feels good to take care of my space, and keep it feeling safe. Like, I'm not afraid to lean on a counter top and come away with a sticky elbow. By keeping my space neat, I feel more focused and feel less lingering anxiety.
Exercise.
My workout routine changes frequently, especially during the warmer months (RE: When it isn't winter.) when a hike or a lakeside walk isn't too far out of reach. Lately, I've been alternating between yoga days and rock climbing days, which complement each other wonderfully. Bring some movement into your day by doing exercise that is fun and feels good for your body. Tune in to what your body needs on a given day, and go for it!
Get some Vitamin G.
While we're on the topic of hiking and lakeside walking, spending some time in nature is mega important for having a lovely day. My day doesn't feel quite right without breathing in fresh air, or taking in the sight of magnificent Mother Nature.
Dinner.
I try to taper my meals off toward the end of the day, eating much less for dinner than I would for breakfast so that my body can focus on things while I sleep that night. Important things like resting and repairing itself.
Bed time rituals.
I often have some trouble getting to sleep at night, so I aim to start winding down right after dinner. This ritual always typically requires having a book in one hand and a hot beverage in the other. And snuggly blankets, because why not.
For the rest of the evening, I'll curl up on the couch and read or watch a movie with Erik.
And then it's off to bed with me.
How do you make your days lovely? Leave a comment and let me know! 🙂