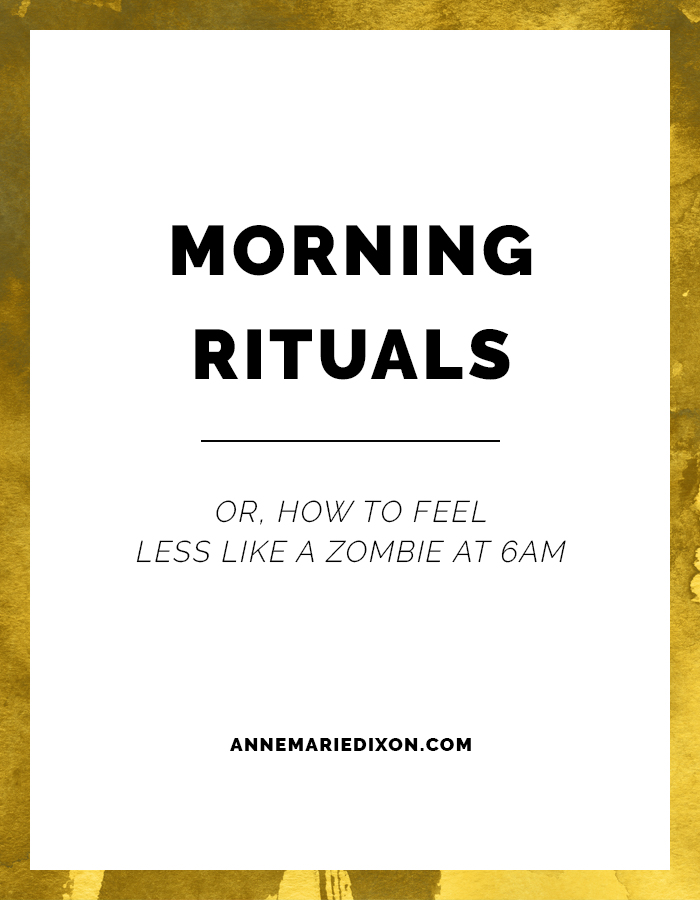 A couple of posts ago, I shared what I've been doing to become a Morning Person. In today's post, I'll be going into more detail around my morning rituals. I'm finally getting to the point where I don't feel like a miserable mess when my alarm goes off, so I'll try to share what's been helping me.
Optimize your alarm clock
I don't have one of those nifty dawn-simulating alarm clocks (though it is definitely on my wishlist), but my phone has two sweet settings that seem to be helping wake me up in the morning:
1) A smart alarm: Three minutes before my set wake-up time is mean to go off, a soft and gentle wake-up warning will start to sound. Sometimes, this is all I need to wake me up in the morning, often without waking up Erik. I have the option to snooze my smart alarm, and wait for the actual one to go off three minutes later.
2) Bright lights: When my proper alarm goes off (currently set to 6:30 am), it is accompanied by the flashlight on my phone turning on and off. It's a little thing, but that bright light in my room has really been helping me get awake and oriented in the mornings, especially during these dark winter months.
Rev up your metabolism with Cayenne Lemonade
I went into detail about my beloved Cayenne Lemonade in last week's post, so I won't go into too much detail here. All you'll need for this morning elixir is a mug of warm water, the juice of half a lemon, and a couple shakes of cayenne pepper (I recommend starting small if you are not a fan of spice). This Morning Elixir will help get your digestive tract moving by encouraging the secretion of stomach acid in preparation for breakfast, but it will probably also make you poop, so be prepared for that.
Have a protein-packed breakfast
Indulging in a protein-rich breakfast first thing in the morning will help keep your blood sugar balanced for the day ahead. That means that you'll be more focused and satiated for longer than if you'd had a more carb-centric breakfast. My favourite protein-packed brekkies often include a plant-based protein shake, a bowl of quinoa porridge, or a few scrambled eggs.
Work standing up
I know that while sitting in a comfy chair first thing in the morning, I'm more likely to fall asleep than get to work. So I try to do some work standing up.
If you've got a standing desk, then lucky you, feel free to use that. Since I do not have a standing desk, I've found that a kitchen counter or island does the trick. Disclaimer: This may only work if you're a short little lady like me. If you are not a shortie, maybe try adding a stack of books to your counter and see if that does the trick.
Matcha it up
I'm not sure if I've mentioned this on the blog, but last summer, I was finally able to kick my coffee habit. On the very rare occasion when I've let my desire get the best of me and have a cup, I'm very quickly reminded of why I stopped (it makes me feel like complete garbage). However, I am also somebody who really enjoys the ritual and camaraderie of visiting my local independent coffee shop, so I've taken up with another significantly more healthy vice: Matcha Lattes.
Matcha is an antioxidant rich green tea powder, with a fresh, grassy, and bitter flavour. I've heard that it can be an acquired taste, but that was not my experience at all. I loved matcha lattes the moment my first sip crossed my lips. My local cafe makes them with almond milk and a squeeze of honey, and they are to die for, IMO. I've also heard that they're quite high in caffeine, but they don't affect me in at all the same way that a cup of coffee or espresso-based beverage does. For me, they provide more focused, calm energy, which is a vast improvement from jittery, sleep-deprived me of yesteryear.
Bonus Tip: Pop a melatonin 20 minutes before bed.
Most nights before bed, I take a Melatonin. Melatonin is a hormone in your body responsible for sleep. In its supplement form, it can help you fall asleep and stay asleep. It has been a bit of a godsend for me because I often have a restless mind when I'm lying in bed at night. And even once I've fallen asleep, that anxiety can sometimes leave me tossing and turning throughout the night. It doesn't work every night, but when it does, I am very grateful to sleep peacefully through the night. And I feel a lot more well-rested the following morning.