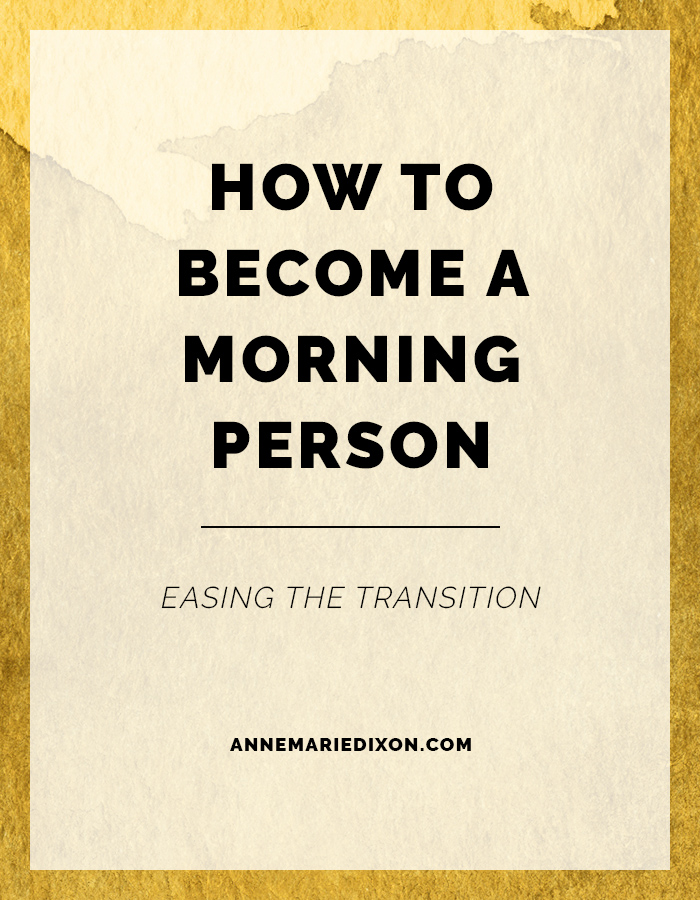 When I was younger, I would never have guessed I would become a morning person. I would stay up all night, sleep in until past noon, and feel frustrated with myself for not making better use of my day. I'm still not a full-fledged Morning Person, but I'm working on it. Today I'll be sharing what's been helping me get on track.
Why become a Morning Person
When I left my day job, I wanted to spend some time finding focus and clarity in my life. I had several goals in mind when I did so, but mostly I wanted to start maximizing my day by taking back the morning. This was a scary thought because I am very naturally a night owl (read here: A Complete Insomniac). I worried that I would end up hating the whole endeavour and "let myself down".
The thing about "letting yourself down" is that it isn't based on anything absolute. When you fall off the wagon, remind yourself that it isn't a big deal, brush yourself off and hop back on tomorrow.
Becoming an early riser means gaining a special part of the day that few other people have. You're fed/exercised/washed/ready-to-work and it isn't even eight o'clock. (I know you've been telling yourself you don't have time to work out. Now you do.) Plus, you get exclusive access to a beautiful sunrise. Early mornings feel quiet and private. They are your opportunity to ease into the day and take some time to yourself.
Making the transition to lark
You might be asking yourself,
"What's so great about being up at some godforsaken hour? Nobody else is awake. I need enough coffee to feel alive when I'm up at eight. I don't even want to think about what it's like to be mobile even a minute earlier."
And I'm not going to lie, there is definitely a transition phase during which you may feel like garbage.
I know that when I worked a day job, I had to be at work at 7:30 am. I dreaded the thought of going to this job. I would hit my snooze button five or six times before leaping out of bed, skipping breakfast, and chugging a latte on my lunch break. It didn't help that I would stay up late the night before to savour as much of my free time as possible.
Now that I'm not dreading what is coming to me when I wake up, Erik and I have the alarm set for nice and early (How does 5:30 sound?). I like to wake up slowly before heading out into the kitchen to put the kettle on. The tone of the morning is really set by the things that you do…
The night before
How you spend your evenings has a direct relationship with how your morning is going to go.
Keep a running to-do list
If you're the kind of person who will lie awake at night worrying about everything you have to do tomorrow, then you aren't alone. I'm right there with you.
I've found that using a to-do list app (like Wanderlist) has been helpful. Whenever a new task comes up, I add it to the list, even if it's in the middle of the night. That way, you aren't staring up at your ceiling until four am worrying about what you've forgotten.
Have a treat to look forward to
Have an idea of what you're going to have for breakfast in the morning. Dig up that awesome smoothie recipe you've been eyeing or some fancy overnight oats that you've been dying to try. Food always lures me out of bed.
If there is anything that you can do the night before to simplify your morning prep time, make it happen. Chop up that fruit, soak those oats, and pick that outfit the night before. Leave yourself less to worry about in the morning!
Have your workout for the morning planned
Have a movement plan for your mornings, like a few rounds of Sun Salutations or a quick stroll around the block. It feels great to get your workout out of the way earlier in the day. Often when it's left for later, it keeps getting pushed back until suddenly, it's night time and you're too lazy to do it.
Early to bed, early to rise
Get to bed early, and make sure that you give yourself time to wind down before you do so. Read, have a cup of tea, take a bath with a couple drops of lavender essential oil and some epsom salts. Feel free do all three of those things at once, and/or whatever else you feel like doing to wind down. Ensure your best quality of sleep by making sure your bedroom is cool and dark.
Morning rituals
Create a routine for yourself that helps signal to your body that it's time to wake up. Drink some tea, watch the sunrise, do some stretches, eat your yummy breakfast. When you go through your ritual, your body will begin to recognise that bedtime is over and the day has begun.
And a final piece of advice:
Don't give up. Making new habits for yourself is hard. Often, it requires breaking some old bad habits. Try it for at least 21 days (which is how long it takes to form a new habit), and see if it works for you. And if it doesn't agree with your body, that's okay too. Every body is different, but don't knock it until you try it.