Life can get a little bit crazy sometimes. Maybe you've taken on some extra responsibilities at work, picked up a night class, or have some other big project on the go. But what about your personal life? It's during these extra hectic times in our lives that we also need to make sure to chill out on occasion and spend some of that precious down time with the people we love.
Let me just say, my life has been a little bit crazy as of late. But last night, I had the pleasure of meeting up with my friend, Nicola, for dinner at Live Food Bar in Toronto. Nicola and I have been friends since high school, and in the last year, she's been been frantically finishing school as a design student before jumping right into her first graphic design gig. It was great to see her after so long and get caught up over a healthy and delicious meal!
Driving around in Toronto in the pouring rain at dinnertime was stressful, to say the least. I managed to find parking on a nearby side street, and made the trek through the rain to Live. Stepping into the restaurant was like being wrapped in a cozy blanket. The atmosphere in Live was bright and warm. The staff were very welcoming and friendly, and didn't seem to mind my lame jokes. For instance, when I was joined by Nicola some time after my arrival, she decided she wanted to order the Pulled Burdock Wrap for her main but having no idea what burdock was, she decided to ask our server. She explained that burdock was a root vegetable that aids the body in cleansing. "By cleansing," I asked, "do you mean it makes you poop?" (Side note: Nutrition school trains you to be oddly comfortable talking about poop, whether or not you are talking to a complete stranger.)
Should you find yourself at Live Food Bar, definitely try:
The Butterscotch Ripple Smoothie. BUTTERSCOTCH RIPPLE. How can you go wrong with that? This was a heavenly combination of coconut cream, banana, coconut sugar, date, lucuma, maca, and vanilla. I practically inhaled this, it was that good.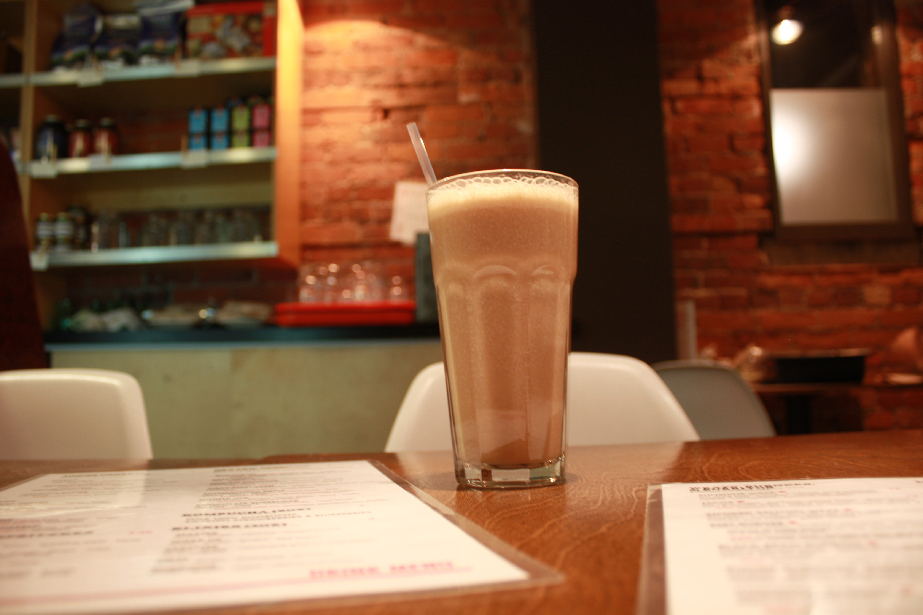 The Hush Puppies. We decided to get these balls of sweet potato, cornmeal and quinoa, covered in maple glaze as an appetizer. These were awesome; so awesome I forgot to take a picture. They came with a wasabi mayo which gave them a subtle kick to cut the sweetness, and were delightfully crispy on the outside, kind of like falafel.
The Black Bean Burrito. This burrito was quite unlike any burrito I've ever had before. It had some traditional ingredients: black bean hummus, brown rice, guacamole, corn & tomato salsa, spinach, and chipotle mayo. You could put guacamole on pretty much anything and I would love it. But the really stand out thing about this dish was that they pressed the burrito so that it had some crispy crunchy goodness to it.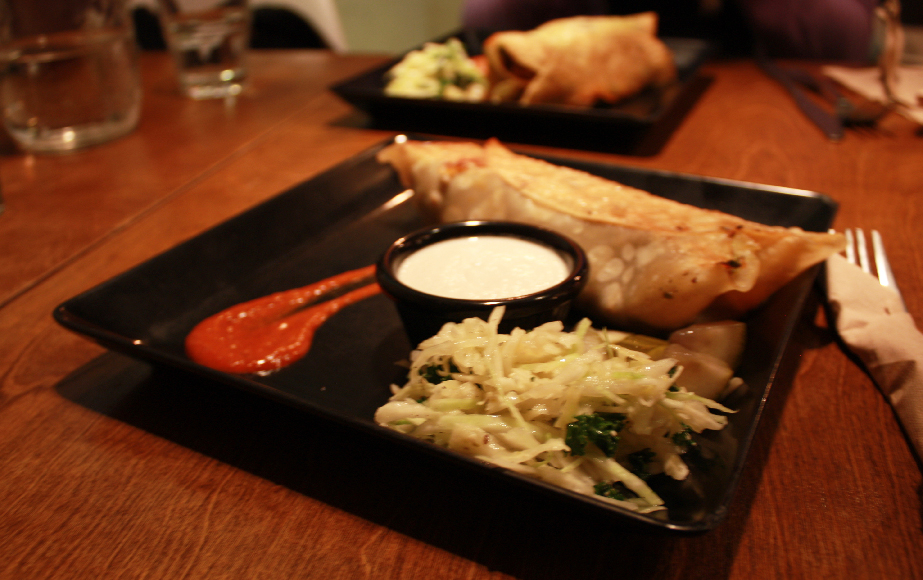 Dessert. I went for the Chocolate Hazelnut Bar which was a bit pricy considering how it was the size of my thumbs put together. Totally worth it though, because it was packed with hazelnuts, and rich enough that I didn't feel like I needed anymore. I also picked up two Chocolate Cherry Cookies to enjoy with the boyfriend when I got home. I'm definitely going to have to try to recreate these at some point. They were not too sweet and go really well with a nice cup of tea if you're feeling naughty.
Basically what I'm saying is: Go to Live. You will like it there. And with that, have yourselves a wonderful and inspiring weekend! I hope it is filled with tasty delights, lots of love, and relaxation.